Inspiring Videos
Short, Inspiring Videos To Touch Your Soul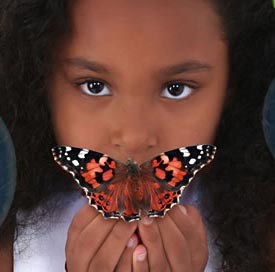 The short, inspiring videos below will touch your heart and move your soul. Almost everyone who watches these inspiring video clips comes away deeply moved. May we all spread the deep inspiration to those around us and throughout the world. For other highly inspiring resources, don't miss our engaging Inspiration Center.
Inspiring Video #1 : Baby Laughing (3 minutes)
Inspiring Video #2 : It's in Every One of Us (5 minutes)
Inspiring Video #3 : Softball Miracle (6 minutes)
Inspiring Video #4 : Challenge Day (4-minute clip of Emmy Winning film)
Inspiring Video #5 : W Mitchell (15 minutes)
Inspiring Video #6 : Free Hugs Campaign (4 minutes)
Inspiring Video #7 : World's Best Dad (4 minutes)
---
Inspiring Video #1: Baby Laughing
What is more Inspiring than a baby laughing with pure joy? This rejuvenating video is guaranteed to bring a smile to your face and brighten your day. You might even want to bookmark this clip as a favorite after watching the infectious joy of this little one. It's a great one to come back to anytime you might be feeling down or getting too serious about life. Enjoy this precious innocence which we all carry deep within.
https://www.personalgrowthcourses.net/video/baby... - 3-minute inspiring video clip
---
Inspiring Video #2: It's in Every One of Us
Gazing into the eyes of the many people you will meet in this five-minute journey, you cannot help but open your heart to the beauty within every one of us. This inspiring video is a reminder that each person we meet carries a spark of joy within. When we find ourselves having difficulty with someone in our lives, let us do our best to to remember the beauty and joy that is always there, even when it is not be apparent on the surface.
https://www.personalgrowthcourses.net/video/ev... - 5-minute inspiring video clip
---
Inspiring Video #3: Softball Miracle
Witness how one of the longest trips ever around the baseball diamond literally brings tears to the eyes of both the players and spectators. This closely contested women's college championship game in the American northwest had a most unexpected result. Not only were the losing team the heroes, everyone present left feeling deeply honored and touched at the incredible sportsmanship shown in this moving video clip.
https://www.personalgrowthcourses.net/video/softball... - 6-minute inspiring video
---
Inspiring Video #4: Challenge Day
These powerful clips of an Emmy award winning documentary are from an inspiring video which depicts the amazing Challenge Day story. Challenge Day has transformed the lives of countless teenagers and even entire schools across North America. Thousands of testimonials every year describe in glowing words how this one-day program dramatically improves teenagers' lives. Some had even been contemplating suicide before Challenge Day, yet now see meaning and real possibilities in their lives. Because of this most empowering work, Challenge Day has even been featured several times on the Oprah Show.
Challenge Day is a one-day program offered in hundreds of high schools and junior highs every year which opens students to seeing their common humanity in a way that is simply miraculous. It is not uncommon by the end of the day to find rival gang members hugging each other and saying I'm sorry, even with tears in their eyes. "I am truly sorry to the millions of people I have picked on," commented a former school bully as he hugged a gangly boy he had tormented for several years. Watch either the 4-minute or the 15-minute clip of this most inspiring video and see if you aren't moved and moved by this life-changing program.
https://www.personalgrowthcourses.net/... - Inspiring video of Challenge Day (4 min)
https://www.personalgrowthcourses.net/video/chall... - Challenge Day video (15 min)
For more on this empowering work which continues to spread inspiration and transformation, explore the engaging material on the Challenge Day website.
---
Inspiring Video #5: W. Mitchell
Meet one of the world's most inspiring speakers, W Mitchell. We all face challenges of varying degrees every day. And change—sometimes invited, sometimes unasked for—is often our biggest challenge. W Mitchell knows about challenge, change, and courage—all first hand. From co-founding a company that put thousands to work, from his election as mayor, from a fiery motorcycle accident that burned over 65% of his body, and from the airplane crash that left him paralyzed, Mitchell exudes grace, good humor, and powerful inspiration.
W Mitchell's inspiring message reflects his philosophy on life: "It's not what happens to you, it's what you do about it." To visit W Mitchell's inspiring website, see http://www.wmitchell.com. Watch the incredibly inspiring 15-minute video clip of W. Mitchell at the link below:
https://www.personalgrowthcourses.net/video/what... - 15-min. inspiring video
---
Inspiring Video #6: Free Hugs Campaign
In just four-minutes, the engaging video "Free Hugs Campaign" takes us on a wild journey with unexpected, yet heart-warming results. The video has spread rapidly around the Internet to inspire many millions to consider the changes we can make by simply giving more hugs. For an article in Australia's leading newspaper on this wonderful phenomenon, Sydney Morning Herald, click here. For a website devoted to this inspiring new movement, click here. To watch other inspirational videos showing how this wonderful campaign has spread around the world, click here.
https://www.personalgrowthcourses.net/video/free... - 4-minute inspiring video clip
---
Inspiring Video #7: World's Best Dad
The final inspiring video on this list (four minutes) depicts the incredibly moving story of an amazing father who so loves his handicapped son that he almost moves mountains to bring joy and fulfillment into his life. Dick Hoyt's deep dedication to his son has touched the lives of millions. Their story continues to inspire all of us to remember that it is the deeper things in life that truly bring us closer to ourselves and to all around us. You may appreciate this inspiring video even more if you first read the short, powerfully moving story of Dick Hoyt and his son Rick as reported in Sports Illustrated at this link.
https://www.personalgrowthcourses.net/video/best_dad - four-minute inspiring video
---
We invite you to share these inspiring videos with your friends and colleagues. Using the amazing power of the Internet, we can send waves of meaningful inspiration around our planet. And for a number of other truly amazing videos, click here. Thanks for being who you are, and have a most wonderful and inspiring day, week, and life ahead!

Special Note: This list was compiled by Fred Burks for this website and the PEERS team. Fred is a former language interpreter for Presidents George W. Bush and Bill Clinton. For any interested in an engaging 24-minute radio interview describing Fred's high-level interpreting activities and more, click here. This talk is from his appearance in an episode titled "Journeys Toward Truth" on the excellent program Hitchhiking Off the Map. Though not at the level of the inspiring videos above, his story is inspiring in its own way.
Don't miss our collection of richly inspiring resources
Your tax-deductible donations, however large or small, help greatly to support this important work. You can make a donation by credit card, check, or money order.
Explore the mind and heart expanding websites of the nonprofit PEERS network:
Subscribe to the PEERS email list of inspiration and education (one email per week). Or subscribe to the list of news and research on deep politics (one email every few days).

The personal growth course websites are part of the PEERS empowerment network
"Dedicated to the greatest good of all who share our beautiful world"